I have downloaded vuforia-unity-6-2-10 SDK and I have Unity 2017.2.0f3 (64-bit)
I am trying to follow a tutorial "How To: Augmented Reality App Tutorial for Beginners with Vuforia and Unity 3D" by MatthewHallberg on YouTube. 
When I put the vuforia-unity-6-2-10 into the Assets folder of a New Project, the prefab for the AR Camera does not work.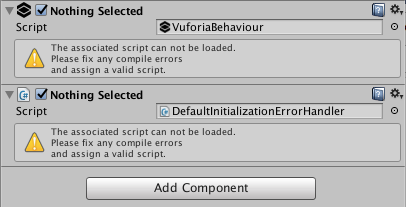 It says "The associated script can not be loaded. Please fix any compile errors and assign a valid script". 
I don't know how to fix this. What can I do to fix this? I am new to Unity and have no idea what I'm doing.